In the heart of the picturesque Al Ain, a captivating display of martial heritage came to life. The Challenge Jiu-Jitsu Festival – Al Ain, masterfully organized by the UAE Jiu-Jitsu Federation, transformed the premises of the United Arab Emirates University into a dynamic arena of discipline, camaraderie, and athletic prowess.
Featuring an impressive 2,500 competitors from all over the UAE, the festival was a testament to the burgeoning popularity of the sport. With participants spanning from infants to teens, the range of talent and skill levels underscored the inclusive and far-reaching appeal of Jiu-Jitsu within the region.
AçaíXpress: At the Crossroads of Tradition and Energy
Amidst the buzz of competition and cheering, the AçaíXpress booth stood out as a vibrant oasis of refreshment and nutrition. Adorned with elements echoing the event's spirit, the booth beckoned attendees with a menu rich in history and flavor. From the delectable Açaí Bowls to the rejuvenating Açaí Slush, each serving was a blend of taste and tradition.
The enthusiastic response from the crowd wasn't just due to our delightful offerings but was also an acknowledgment of a shared history between Jiu-Jitsu and Açaí.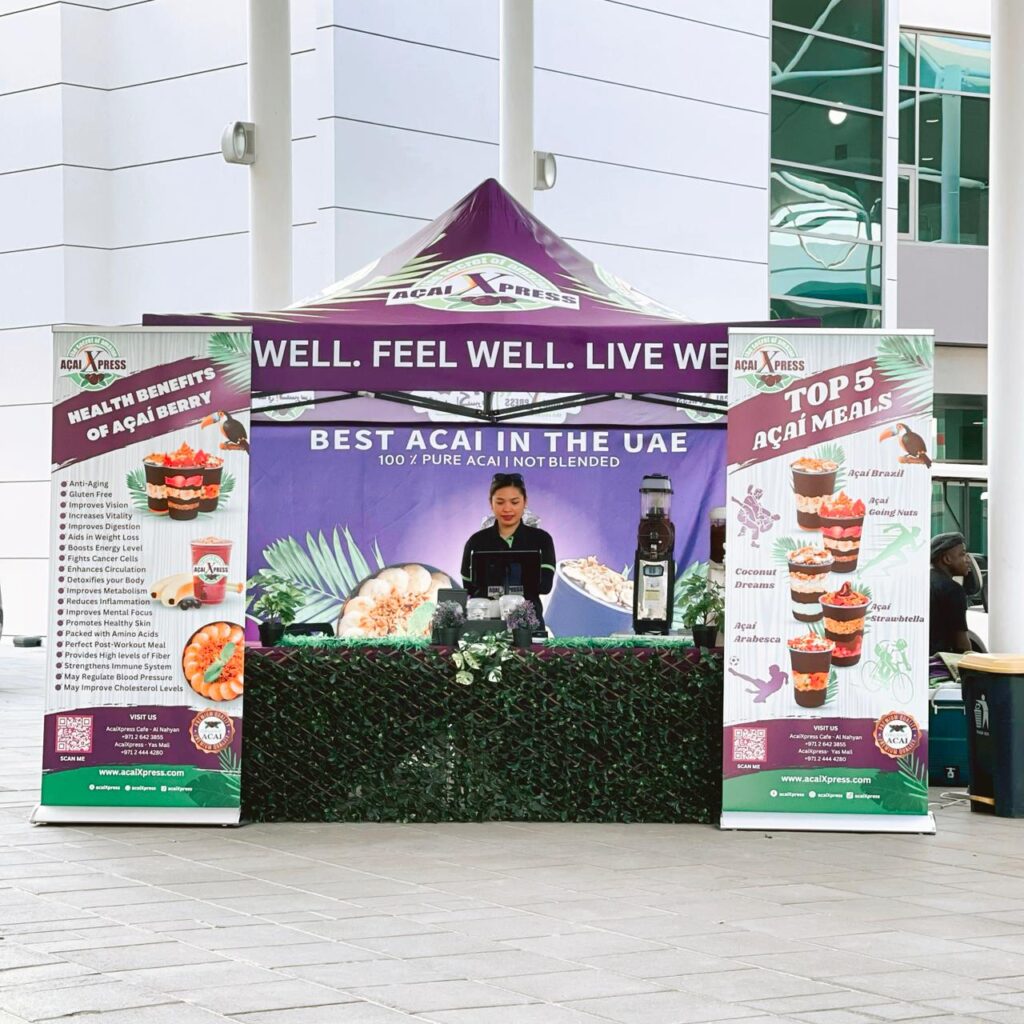 Deep Roots: The Gracie Legacy, Jiu-Jitsu, and Açaí
The bond between Jiu-Jitsu and Açaí goes deeper than mere sustenance. This intertwined history originates from the Gracie family of Brazil. While the Gracies were instrumental in popularizing Jiu-Jitsu, they simultaneously championed the benefits of the Açaí fruit, introducing it to southern Brazil's urban landscapes. The marriage of martial finesse and nutritional vigor is a testament to the balanced lifestyle propagated by these Jiu-Jitsu pioneers.
For the past eight years, AçaíXpress has become synonymous with this balance. As the leading Açaí brand for Jiu-Jitsu enthusiasts in the UAE, we proudly continue this legacy, merging tradition, well-being, and taste.
Embracing the Future with Tradition in Tow
As The Challenge Jiu-Jitsu Festival – Al Ain came to its grand conclusion, a sense of pride, reflection, and anticipation enveloped us. Every participant, with their unique stories and struggles, epitomized the indomitable spirit of Jiu-Jitsu. Their dedication, skill, and passion resonated with the ethos of AçaíXpress.
Our unwavering commitment to the Jiu-Jitsu community is more than just serving Açaí. It's about celebrating shared histories, fostering connections, and nurturing future champions. We eagerly look forward to more events, more shared moments, and of course, more Açaí bowls. To the traditions that anchor us, the sports that inspire us, and the flavors that revitalize us, we raise a bowl and say, "Osu!"
Some images during the event