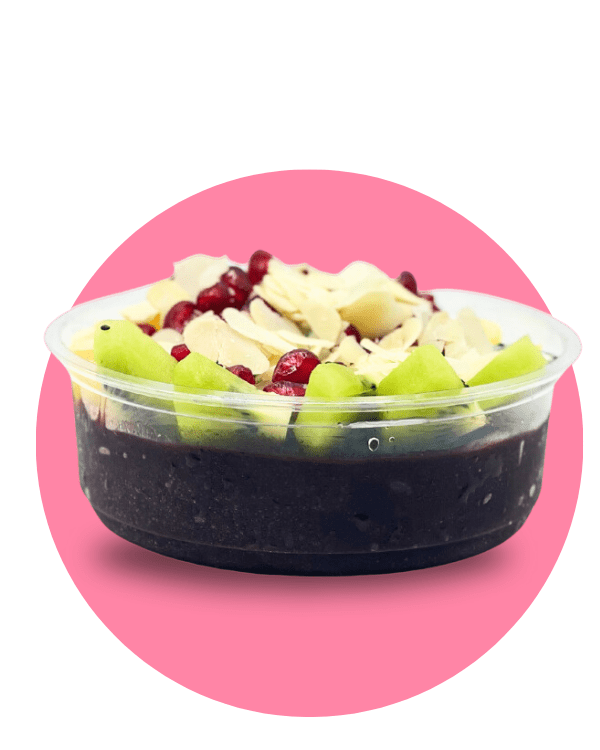 Choose your base + up to 3 toppings
Choose your base + up to 4 toppings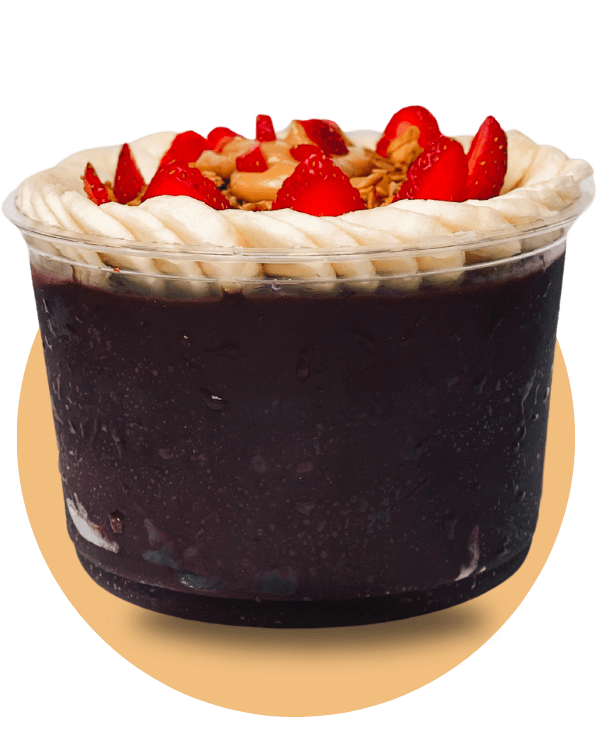 Choose your base + up to 6 toppings
Choose your base + up to 3 toppings
Choose your base + up to 4 toppings
Choose your base + up to 6 toppings
Base You Can Choose From: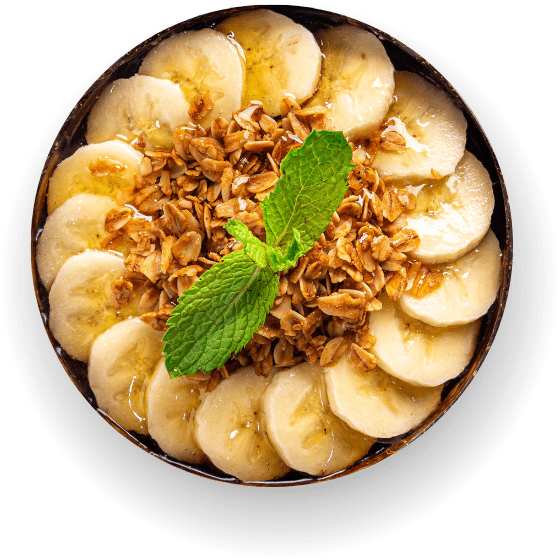 OUR SIGNATURE COMBINATIONS
OUR SIGNATURE COMBINATIONS
Açaí, Banana, Homemade Granola, Honey.
Acai, Banana, Homemade Granola, Honey.
Açaí, Orange Blossom Water, Mixed Fruits, Pomegranate, Almond Flakes.
Açaí, Banana, Strawberry, Homemade Granola and Homemade Peanut Butter.
Açaí, Strawberries, Homemade Granola, Nutella.
Açaí, Milk Powder, Mixed Nuts, Pineapple, Coconut Flakes, and Condensed Milk
Indulge in the freedom to create your perfect Açaí bowl with our "Make Your Own Bowl" selection. Tailor your Açaí adventure by selecting from an array of delectable toppings that complement the rich and natural flavors of Açaí. With endless combinations to explore, you're in control of crafting the ultimate Açaí bowl that suits your taste and cravings.
Choose Your Container
Select your preferred serving style, whether it's a cup for on-the-go convenience or a bowl for a more leisurely indulgence.
Choose Your
Base
Enjoy the pure essence of Açaí with Açaí Pure, indulge in a creamy treat with Açaí Soft Served, savor a blended delight, or opt for the tangy twist of yogurt.
Choose Your
Toppings
Elevate your Açaí creation by handpicking from our delightful array of toppings. Mix and match to your heart's content to achieve the perfect balance of flavors, textures, and nutrition.
Savor the extraordinary with our Açaí Smoothies, where indulgence meets wellness with every delightful sip. Crafted from the finest Açaí berries, our smoothies are a harmonious blend of rich, natural sweetness and invigorating ingredients. Each smoothie is a refreshing oasis of flavor, designed not only to tantalize your taste buds but also to invigorate your body with the nourishing essence of Açaí. Whether you're in need of a quick energy boost or a luscious, guilt-free treat, our Açaí Smoothies offer a delectable way to replenish and revive.
The Only Pure Acai Soft Serve Cone
Indulge in a one-of-a-kind treat with our Pure Açaí Soft Serve Cone. We've captured the essence of paradise in every swirl of our velvety soft serve. Made from 100% pure Açaí, this cone offers a unique blend of natural sweetness and creamy delight. It's the perfect balance of taste and nutrition in a cone, making each bite a journey to tropical bliss. When you savor our Pure Açaí Soft Serve Cone, you're savoring the unparalleled taste of pure Açaí, and you won't find anything quite like it anywhere else.
Açaí Soft Twisted With Frozen Yogurt